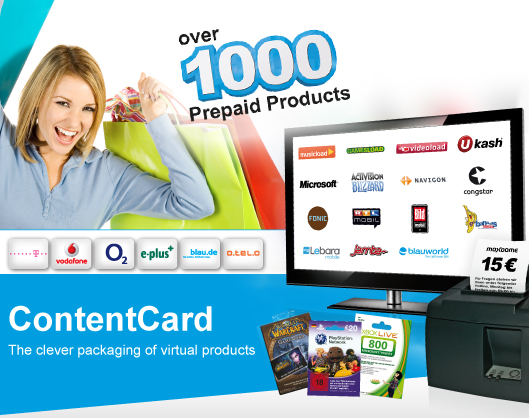 Virtual Products
…and how to earn money with them
Virtual Products – What are they? Do they really work? This will all become clear if you consider the large and constantly growing selection of products as well as the unbeatable advantages that they offer.
• No pre-investment
- Only pay after the customer makes their purchase
Capital commitment is an important cost factor. Therefore virtual products will only be charged once you have received payment from your customers.
• Products always in stock
- Large range of products and everything is always in stock
Virtual products distinguish themselves by their vast variety of forms. However, advanced ordering is not necessary. Simply request "just in time" delivery according to your customers' requirements, and around the clock. Returns are also no longer an issue.
• No risk of theft
- Thieves stand no chance
Virtual Vouchers are sold online as PINs, which means they are only available at the time the customer orders a voucher over brodos.net or payment terminals. Physical Vouchers refer to "tangible" vouchers, which after purchased enable the end customer to activate the product. These Vouchers are only activated once sold. Losses by theft are now a thing of the past.
• No shipping fees
- Less costs, more margin
In the world of "bits and bytes" there is no room for delivery costs, shipping insurance and other associated costs, because we understand that time is money.
• Growing Product Portfolio
- New revenue opportunities through new products
A rapidly growing product portfolio enables you to attract new customer groups, increase customer traffic and thus generate additional sales. In addition, you can develop a high level of customer loyalty through the sale of products that are regularly purchased, for example, products that need to be topped up such as "Sony Playstation" credit. The market is growing rapidly, take advantage of it.
• brodos.net – log in and get started
- simplify the demanding
There are many ways in which you can market and activate ContentCard products. The simplest solution: brodos.net. All the virtual products are currently available on the site and are as easy to sell via the integrated POS module as all other products in your store.
• The most up to date security technology
- Technology to keep your business safe
Whether via terminal solution, POS integration or through brodos.net, marketing virtual products is made safe through the latest security technology and the best encryption mechanisms. The portfolio we offer covers access via "token keys" which change the access code every minute, as well as offering the option of managing employees, setting call limits and registering and approving individual outlets. Security just got safer!
The unanimous response from retailers regarding virtual products and their many benefits is: "I want it too!"
We look forward to sharing the benefits of this growing virtual market with you. Your sales experience coupled with our technology and vast product range guarantee success.
We are happy to provide any advice or assistance.
We wish you every success in your business!